About
ABOUT MEVAGISSEY HARBOUR
Mevagissey harbour is very unusual in that it is formed of an inner and outer harbour. The original harbour dates back to 1774 when an Act of Parliament was passed allowing the construction of the new port and Mevagissey Harbour Trust was formed. The harbour in its current guise has been reached through a number of construction stages with the outer harbour and breakwaters completed in 1888.
Today, the harbour supports a thriving fleet of around 60 fishing vessels, making it one of the most important harbours for fishing activity in Cornwall. It also supports 60 permanent moorings for pleasure vessels and 30 seasonal moorings. There is a slipway which is available for public use. Mevagissey harbour is Grade II listed and is one of only three Charity Trust Ports in the country. The harbour is a Trust Port. Trust ports are independent statutory bodies, each governed by their own, unique, statutes and controlled by a local independent board. There are no shareholders or owners and any surplus is ploughed back into each port for the benefit of its stakeholders. There are over 100 trust ports in the UK.
Mevagissey harbour is a national asset and it is being run for and on behalf of the nation.
The harbour is a vital part of Mevagissey in that it attracts tourism and provides employment (particularly for the fishing/tourist industries). Two outer breakwaters (the North Pier and the Victoria Pier) provide Mevagissey and its fishing fleet protection from south-easterly storms.
THE VILLAGE
Mevagissey is a village, fishing port and civil parish in Cornwall, England, United Kingdom. The village is situated approximately five miles south of St Austell and 17 miles to the East of the cathedral City of Truro.  The parish population at the 2011 census was 2,015. Named after two Irish saints, St Meva and St Issey, the village dates back to at least 1313 and during the 1800s Mevagissey prospered on the back of the abundant source of pilchards. Pubs, cafes, galleries and shops cluster around the harbour and line the pretty streets. Mevagissey also has an activity centre with a gym, bowling green, football field, bar and meeting rooms.
THE FISHING INDUSTRY
The fishing fleet originally benefitted from huge shoals of pilchards/sardines and this activity brought in a range of associated trades such as boat repairers, sail makers  and weavers. In its heyday, some 12 to 15 thousand tonnes of pilchards were landed each year. The industry subsequently declined as a result of over fishing but has since recovered following better management of fish stocks.
The seafaring tradition is still strong in Mevagissey with many "Master Mariners" having sailed around the world . Families also emigrated to far flung places taking with them Cornish names.
Ship building also grew in Mevagissey with vessels being well respected for their quality and seaworthiness.
ABOUT THE CHARITY
The harbour is run as a Charity having been granted charity status in 1988. It is registered as Mevagissey Piers and Harbour (reg no 800349) although its working name is Mevagissey Harbour Trustees (MHT). The harbour operates through a board of Trustees, who appoint a harbour master (and support staff) to undertake the day to day running of the harbour.
THE TRUST
The key objectives of Mevagissey Harbour Trust are:
Maintain Mevagissey harbour and its facilities in a satisfactory state that is fit for purpose both now and into the future
Operate the business of the harbour in an efficient way to generate a profit to reinvest in the harbour
Ensure as far as practicable the safety of all persons/vessels using /visiting the harbour
In the year to 31 March 2023, the income of the charity was £300,000. Income comes from harbour dues (27%), fish landing dues (15%), car parking (18%), rents (30%) and other (10%). The Charity receives no direct government funding to assist with its operations but can apply for discretionary grants towards exceptional repairs or capital equipment. Trustee meetings are held on the second Tuesday of each month. The AGM is held in June each year.
PETER BLAMEY
Fisherman, co-owner of the potter Galwad-Y-Mor, and owner/skipper of the netter Girl Rachel. From a long established fishing family, his son Christopher Jan skippers the potter. Leading a busy life at sea, likes to walk the coastal paths when time allows.
CAPT. H. ST A. BOWLES (MN)
Chairman. Retired: ex Marine Superintendant,
Company Safety Officer and
Mevagissey Harbour Master.
JOHN HUGHES
John is an accountant with knowledge of Charity Law and was appointed a Trustee in 2016. He enjoys walking the South West coastal path with his wife and their collie cross dog.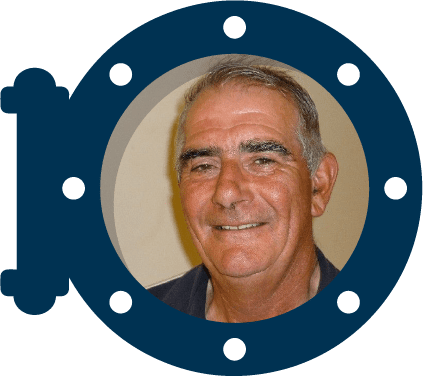 ROD INGRAM
Semi retired fisherman, former Marine Radio Officer and Electronics Engineer. A radio ham and astronomer in his leisure time.
ANDREW LAKEMAN
Longest serving current board member. Chairman of Ocean Fish, a company at the heart of the Cornish fishing industry with fleet, processing and trading interests. Likes to sail Hewers, the 36ft lugger which he renovated.
CELIA MITCHELL
Former college lecturer. Longterm Cornwall IFCA committee member and secretary of the Mevagissey Fishermans Association. Extended local family ties and connections to the sea. Enjoys boating, swimming and reading.
MIKE ROBERTS
Lived in Mevagissey all my life. Mother's family Pollard. Family Lugger "Vera" Retired Marketing Systems Manager. Served in local government as District Councillor 15 years, over 30 years Parish Councillor. Current Chairman Parish Council & Jubilee Hall. Interests Sailing, Swimming.
DAVID WARWICK
Skipper/owner of trawler Valhalla BH 9. Full time fisherman since leaving school in 1988. When not fishing I like to sail with my son, and I also enjoy photography.
MATTHEW HUNKIN
Born and bred in Mevagissey, owner of a small fleet of fishing vessels all working out of the harbour. Matthew brings his fishing and business acumen, as well as some young blood to the board of Trustees.
ROBERT GREENAWAY
Former Paramedic, Robert, is now skipper/owner of pleasure vessel "Seascan" which can be booked for sightseeing tours around Mevagissey Bay.
MEET THE HARBOUR STAFF
The harbour master, Andrew Trevarton, has ultimate responsibility for the efficient running of the harbour assisted by Neil Prowse. The work they do is very varied and designed to ensure that the harbour is clean, safe and tidy. They undertake a host of painting and repair work and supervise external specialists who are brought in as necessary. The administration and accounting is all performed by the clerk, Chris Gilbertson. Monthly financial information is produced for the trustees. The harbour master and clerk both attend the monthly Trustee meetings and the harbour master produces a monthly report for the trustees. The harbour staff are all trained in first aid and should be contacted in the first instance of any problems.
Andrew Trevarton
Harbour Master
Owner/skipper of the trawler Galatea, a fisherman all my life. Five generations of proud West Country fishermen.
CHRIS GILBERTSON
Clerk to the Trustees. Worked for the harbour since 1987. Likes loud music, art and antiques.
NEIL PROWSE
Harbour Masters Assistant. Royal Navy and Trinity House background. Spare time spent walking by the sea and spending time with the family.
SIMON ELLIOT
Simon a proud Yorkshire man, is from an engineering background. He enjoys boating, fishing and is a connoisseur of fine wines.